2017 - 2018
Start-up culture, meet Fortune 100
I led design for Honeywell's Architecture & Innovation group. We collaborated with 40+ R&D engineers to work on technologies like predictive analytics and machine learning for building maintenance, IoT smart vents for homes, and applications of augmented, mixed, and virtual reality.

My experience running an agency and launching startups was directly applicable to the operational style of the A&I group. I mentored others, and demonstrated by example how to structure small teams to operate in an agile manner, and quickly develop and build new products.

CREATIVE DIRECTION
STRATEGY & RESEARCH
STARTUP MENTORSHIP
INTERACTION & VISUAL DESIGN
iOS DEVELOPMENT
VIDEO PRODUCTION


Part 1: AR for Service Technicians
A location-based maintenance tool for real-time troubleshooting of HVAC systems in buildings.

Final Design
Our team was tasked with creating an application that combined location information, real-time HVAC data, building maps, way-finding, and augmented reality to help technicians perform system maintenance.

Although we had an existing way-finding solution that we could leverage, we still had to figure out how to integrate it into the solution. All of the other components had to be discovered and built from scratch.


As the sole designer and also the developer with the most iOS experience, I pulled double-duty to quickly create workflows and design for the use cases, while also defining an application architecture to pull the engineering elements together.
Application Architecture
We were initially experimenting with Microsoft's Hololens for our augmentation solution. Technical and physical limitations associated with the device, coupled with the complexity of the data pipeline, made it difficult to plan predictable milestones and scalability.
I put together a
proof of concept
using iOS's
ARKit
that demonstrated how we could combine user and device location with augmented information. The speed at which I was able to research and stand-up a quick solution convinced us that we could greatly increase our chances of shipping something if we reconsidered our technology stack and narrowed the scope of the MVP.
We wanted to show articulated 3D models of the HVAC equipment, along with real-time data outputs. Not having these resources available, I did some research and created my own content using Wings3D and Blender. While the models weren't final quality, they were good enough to help us develop our 3D pipeline, validate associated data structures and API end points, and create a working MVP.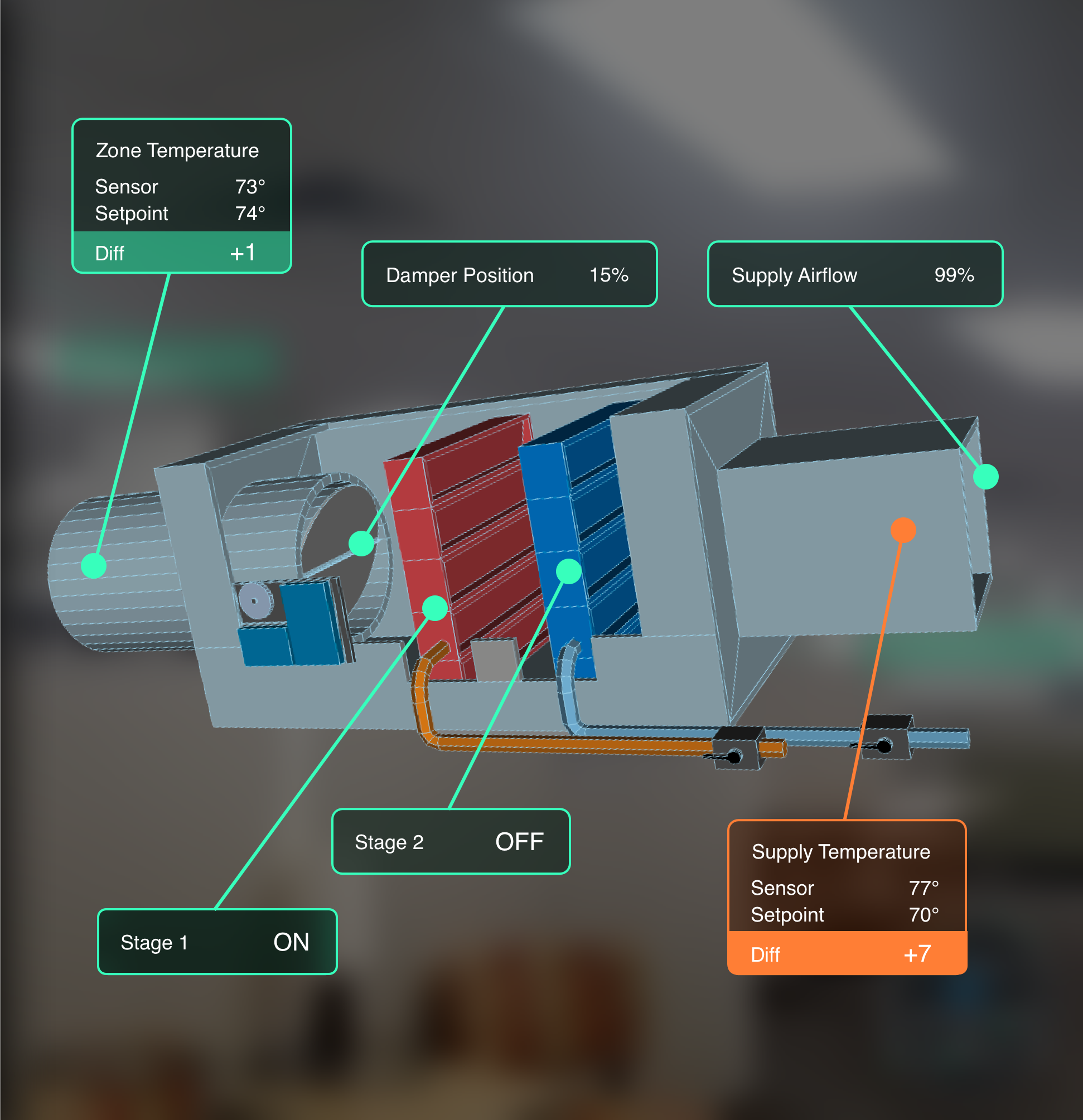 3D models of a boiler, a chiller, and a VAV
On the development side of things, I invented a positional data structure and mapping algorithm to sync 2D location coordinates to 3D HVAC coordinates projected in the AR view. I also got to dust off my recursion skills and develop algorithms for walking n-node hierarchies of equipment in order to visualize the upstream devices supplying a given device being diagnosed by the technician.

I'm proud that our team was able to ship a working MVP in three months time, considering all of the requirement hurdles and technical challenges we had to overcome.

Initial wireframe workflows
---
Part 2: Video Production
A showcase of our long-term product vision.

While working on the AR for Service Technician project, an important sales opportunity for one of the largest buildings in the world became available to us.

I was given the directive to put together a concept piece that demonstrated our project. We also wanted to include forward-looking concepts like remote, virtual assistants and ML-powered analytics.

I was able to conceive, design screens and animations, shoot, and produce a three minute video over the course of a week. I'm pleased with the results considering it was a team of one with no resources. I even had to go out and buy the hard hat and safety vest and cast myself as the technician!
For confidentiality reasons I can't make the video available here, but I'm happy to show it in person.
---
Part 3: AR for Connected Homes
Winner of Honeywell's 2018 Global Design Award

This project was born from a need to reduce product returns and customer support call volume. The goal was to create an application that helped a consumer upgrade their old thermostat and ensure that the new thermostat was compatible with their HVAC system.

We used augmented reality and image recognition to automate tasks like thermostat identification and wiring configuration. I lead the team to design, build, and ship this product in eight months.


Upgrade Assistant Wireframes
Functional scoping is a critical step in ensuring that a product will actually ship. Accurate scoping for this project required understanding in three key areas:
Problem Domain
What is the depth and breadth of thermostat and HVAC system combinations and which ones will the MVP support?
State of the Technology
Is Vuforia the right AR solution, how robust is image recognition, and what are the model training requirements?
Audience
Are most customers using smartphones, do they have Honeywell products, and will AR confuse them?
Experimental Chat Assistant Concept



In true startup fashion, I wore whatever hat was required to keep the project moving forward.
Some days I was defining workflows, designing interactions, and building wireframes. Other days I was providing creative direction. I consulted with the developers to help them define their API endpoints for determining thermostat info and wiring compatibility. I interviewed our hardware engineers, customer support, and HVAC experts to create a compatibility matrix that mapped out all the possible wiring combinations and features supported for a given thermostat-system pairing. And I worked with marketing, product, and engineering to determine release schedules, branding, and messaging.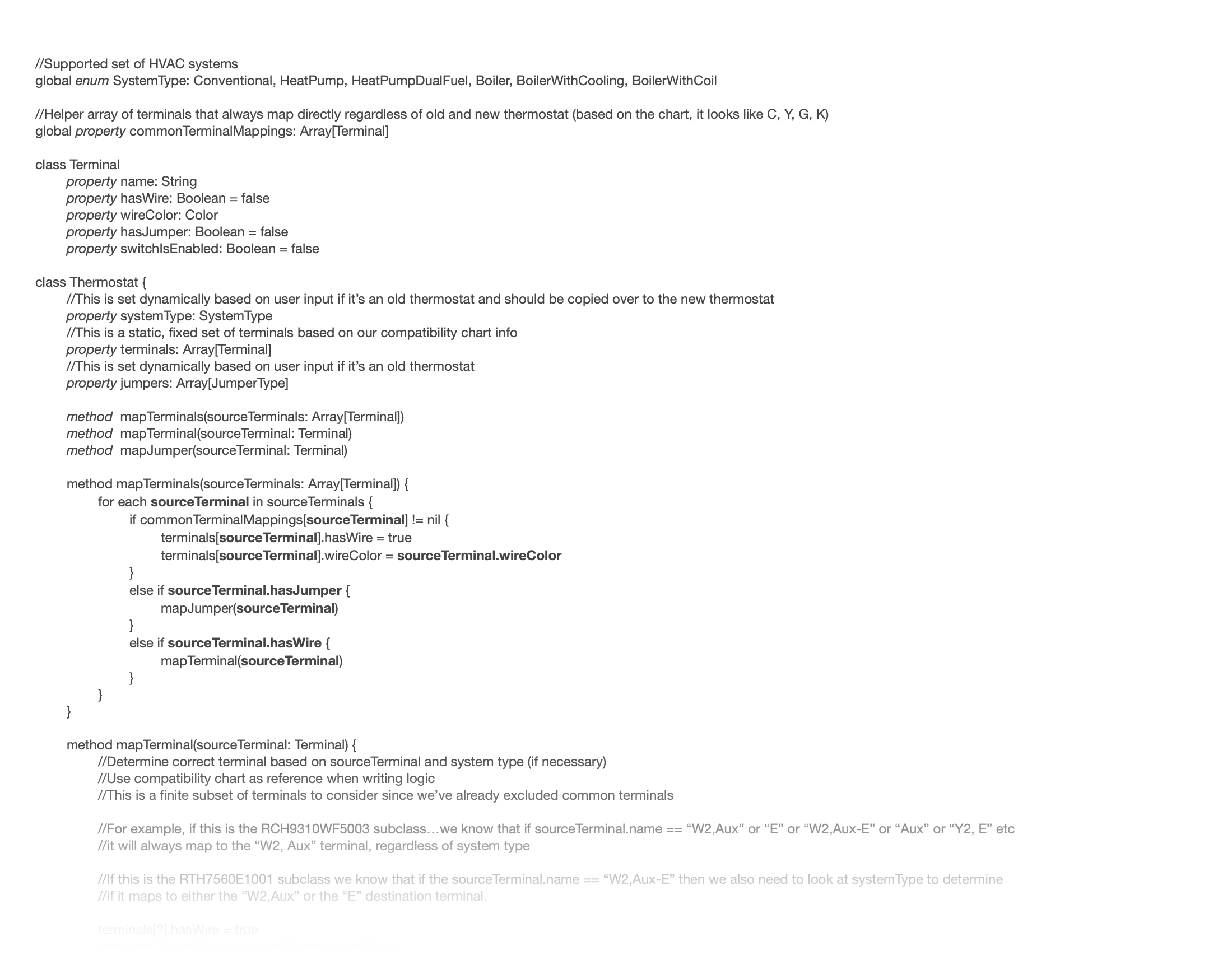 Pixels, Spreadsheets, and Pseudo-Code
---
Part 4: Research & Vision
Contextual inquiry, usability testing, and design thinking workshops

Connected Home Strategy

We spent several months researching and synthesizing prior studies, industry trends, and organizational roadmaps to construct a strategy document for the A&I group. This document served as a north star for teams when determining what projects to focus on, as well as a socialization tool to create alignment with other groups within the organization.


Vision-building
Personas for Buildings

One of the more interesting research projects was conducting contextual inquiry with technicians and building managers as they went about their daily jobs.

The technology used to build and maintain buildings is both complex and constantly changing, and the sheer variety of building types and HVAC systems is mind-boggling. Likewise, the scope of responsibilities, list of daily tasks, needs, and pain points for HVAC professionals varies wildly depending on the type of building and size of organization they support.




A building is a complex, living organism that co-exists in an ecosystem of other buildings, the environment, and people.
We developed three "building personas" from our observations:
Enterprise
Large, complex campuses made up of multiple buildings. HVAC is usually contracted out and on-site employees are usually responsible for oversight and direction of those contracts.

Office
Single structures, ranging from small to large, with in-house staff handling HVAC monitoring and maintenance.

Unique
Structures constrained by atypical requirements, such high-security facilities like government buildings and historically important buildings.

Predicting Innovation Trajectories

I came across the
Innovation Trajectory concept
from
Melissa A Schilling
in HBR, and I keep it in my back pocket at all times.
The activity helps identify areas of innovation, tailored to your organization's goals. It's a process of mapping and prioritizing the relative benefits and maturity-levels of the attributes of a given technology. In turn, you use this information to guide strategic decisions about where your company should focus its resources.
It's the perfect secret weapon for when you find yourself at an informational dead-end.

We used this as a generative exercise to help inform our Connected Home Strategy vision work. In our retrospective we all agreed that it was thought-provoking and that it generated valuable insights.

I recommend that you give it a few trial runs with your internal team before using it with others, or to produce "real world" results, as it takes some practice to become comfortable with the process. In particular, picking an appropriate trend curve can be tricky.