Bringing ride-sharing to Austin
One day at the
BigBig Bomb
office our new upstairs neighbor,
Josh
, came down to see if he could borrow some wifi. The next thing we knew, we were all hanging out on the regular. On a fateful afternoon at
Rio Rita
, he pitched us an idea and asked if we would team up with him to make it a reality. And that's how Heyride, Austin's first
ride-sharing
service, was born.
The Heyride Team

Within the first three months we completed initial design, stood up the backend service for a dual-sided marketplace, sussed-out insurance coverage for ourselves our drivers and our riders, and built an MVP version of the iOS app. Six months later we secured venture backing, established a background check pipeline for on-boarding drivers, conducted extensive user research and field testing, and officially launched the service at
FunFunFun Fest
.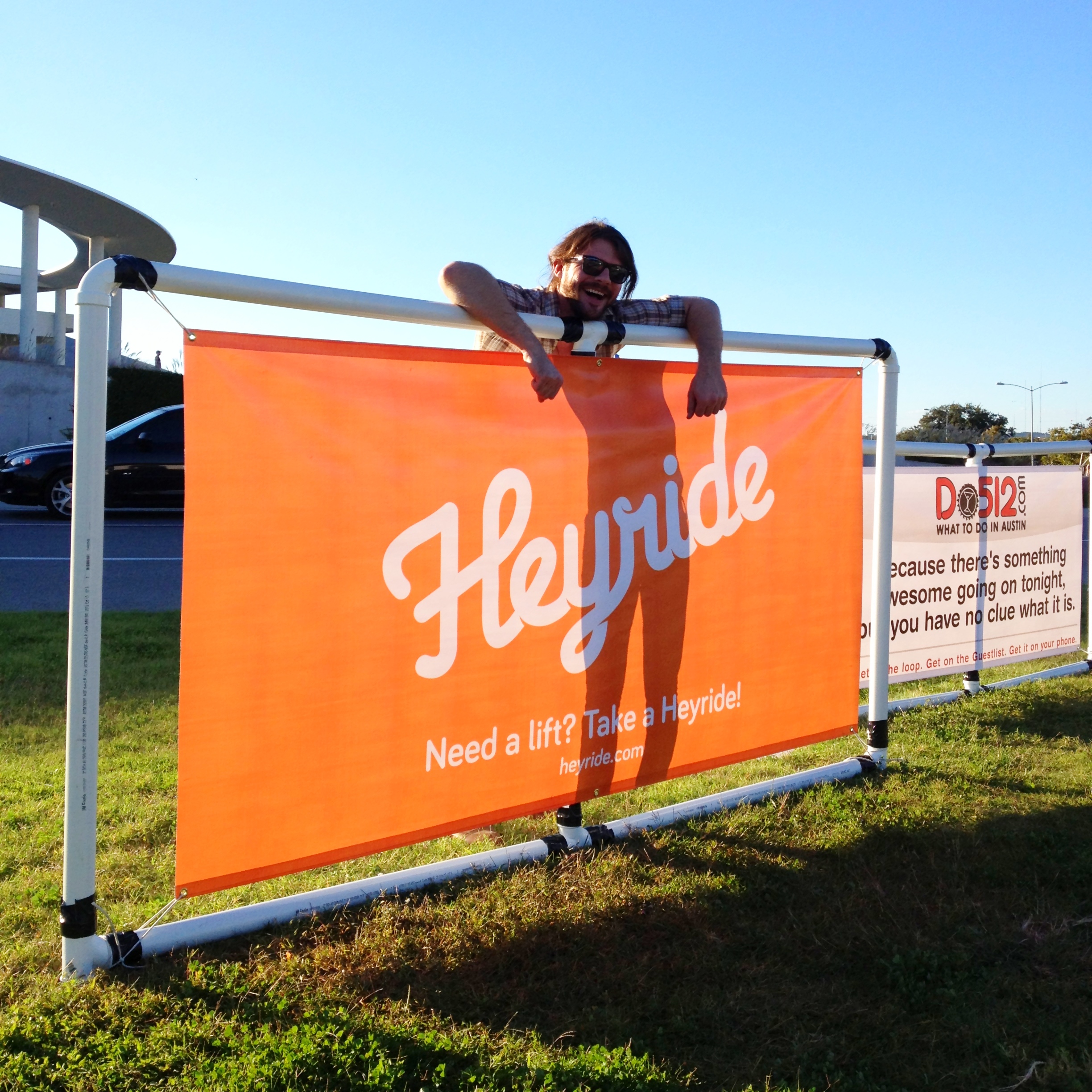 Official launch at FunFunFun Fest
Securing venture backing wasn't an easy task. We regularly encountered skepticism out of concerns for passenger safety. Our thinking was that if services like AirBnb and CraigsList worked, so would this. Heyride would arguably be safter than a taxi because we would know the person's location at any time, out of necessity. Additionally, drivers were vetted through background checks and all users of the service would be rated and vouched for through social trust networks.
Our launch strategy was to follow the lead of the pedi-cab industry that had recently established itself in the city. We sought to provide a much-needed service by giving rides to people who needed them and once the city took notice, would work together to create an ordiance to operate in a sanctioned capacity.
Things didn't go as smoothly as we had hoped. Although I can't go into the details of all the legal challenges, I can say that we soon received a
cease-and-desist
from the city and some of our drivers found themselves the victims of sting operations. Police officers would pose as regular people needing rides and when a driver would arrive to pick them, up they would be issued a citation for operating without a license.
We realized it was time to retain legal council and suddenly the whole venture began to feel very "real." The ripples of our splash in Austin eventually made their way to Silicon Valley. Sidecar, a San Francisco-based ride sharing service, entered into negotiations to acquire us. A few months later
the agreement was finalized
.
Heyride had set off a chain of events that led to legal
action against the DoT
, Austinites effectively
banning Uber and Lyft
from the city, and the state of Texas
overrulling the ban
because at the end of the day, politics is all about $$$.
The amount of creative output and quality of work produced speaks to what a small team can accomplish when that team is composed of talented folks with a balanced skillset and aligned on a singular vision. A healthy dose of optimism and naivety didn't hurt either. The entire experience was quite the…
ride.
😎🚗💨
CO-FOUNDER
VP OF PRODUCT
DESIGNER
iOS DEVELOPER
Product Design
Unlike all the other ride-sharing services out there, our concept took a more interactive and social approach.

Drivers were given the agency to set their own prices, based on our suggestion algorithms. They might decide to up their price because of their high rating, luxury car, or sparkling personality.

Riders were allowed to choose who they wanted to get a ride from. Driving badges and social trust networks provided them with the context they needed to make an informed decision.

Six years old and still lookin' dope!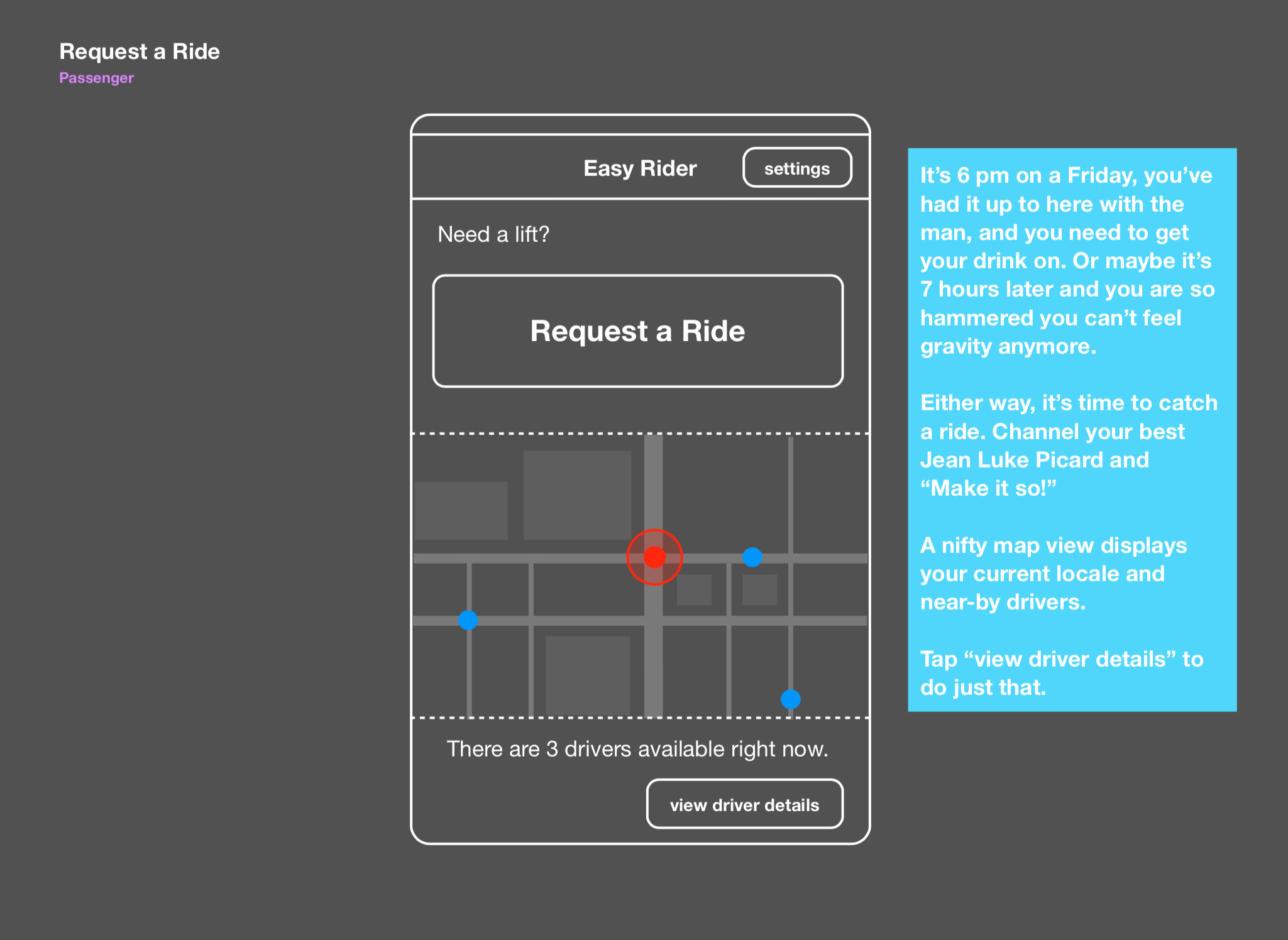 The tone of our wireframes and interaction design was intentionally cheeky
---
Startup America Partnership
In the process of getting Heyride up-and-running, we also participated in the
Startup America
competition and ended up
winning
!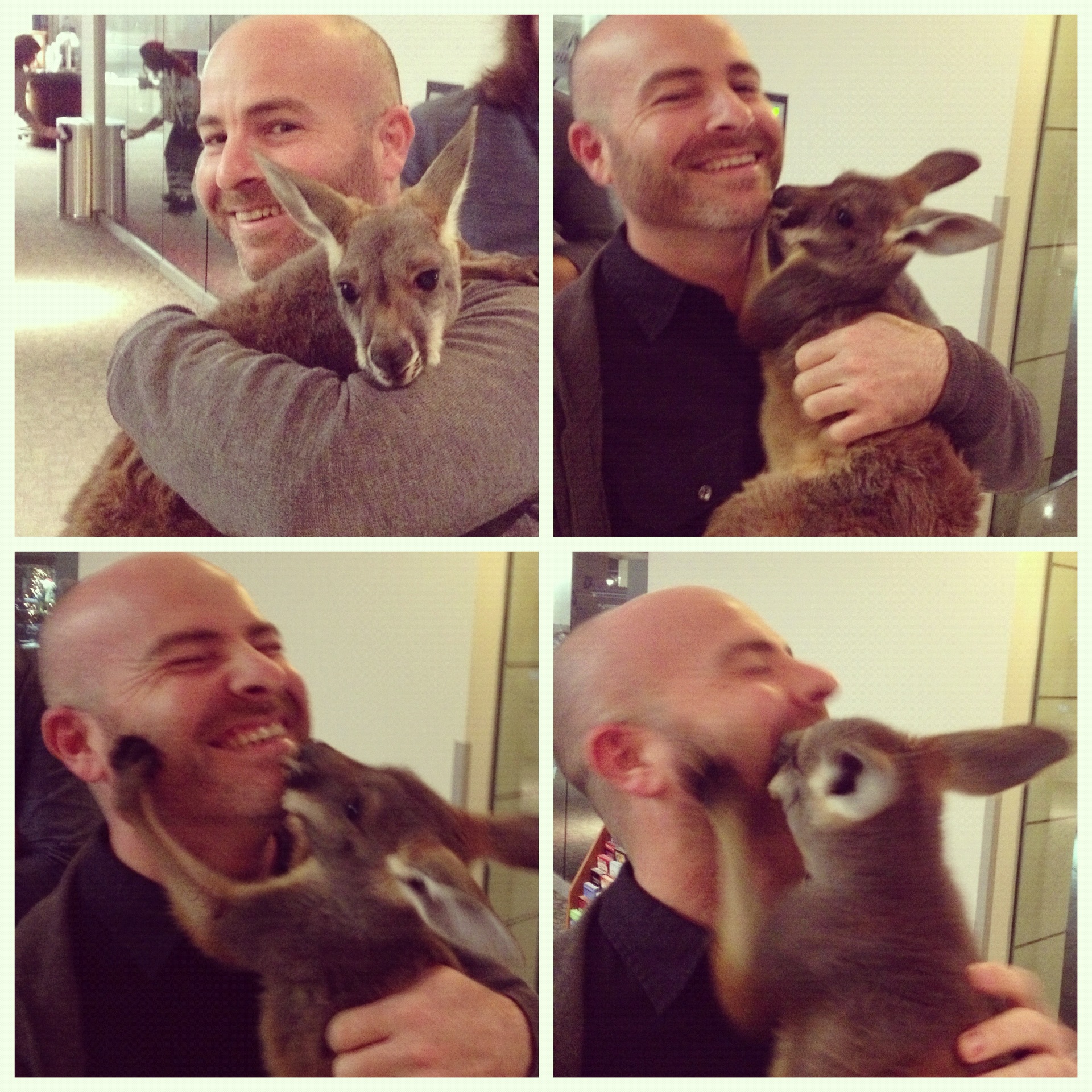 At the after-party a kangaroo made out with me and his breath smelled like cat food.